For our Legacy Design Proofer customers, we have created a process for you to upload your gallery to Proofer. This article will walk you through exporting and uploading your gallery to our Legacy Design Proofer.
Legacy Proofer Export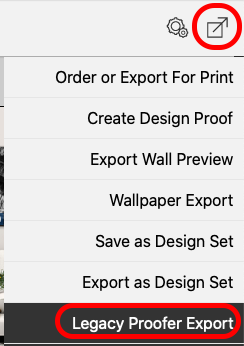 To begin your export, click the Export icon and then Legacy Proofer Export.
Select Rooms
Export Location
Create Image Files
Locate Exports and Upload Revision
Pro Tip: Creating an "Export for Legacy Proofer" folder to save these exports in, can make it easier to find them when Uploading Revisions.
Dashboard Options